The steps below show you how to watch the videos on this website. Each step includes a picture of what your computer screen would look like at the time.
1. See the picture of the video below labelled Diabetes Video. Click on the big white arrow in the middle of the video: 
2. The video starts:
3. Take your cursor to the bottom of the video and a dark grey band lights up on the video (see the pink arrow in the picture below). If you want to enlarge the video to make it fill your computer screen like a television, click on the square on the bottom far right of the video (see pink circle in the picture below). If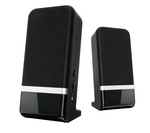 you then want to return the video to the original small size, press ESC (short for escape) on your keyboard at the top left hand corner of it (see last picture at bottom of this page). If you want to make the sound louder or lower, click on the loudspeaker picture on the dark strip. If you want to stop and then restart the computer click on the two short parallel lines on the far left of the strip.  If you have no sound on your computer, you might need speakers which you can buy from PC World on Kensington High Street and attach to your computer yourself (see picture - above right). They cost £5.99. CLICK HERE for more details. If you would like to watch films or listen to music on your computer you may decide to buy better quality speakers. Speak to a sales person at PC World.